What we do
We develop with and for you the suitable battery solutions from 48 volts – 800 volts, for your individual application, tailored to your intended use.
We supply you with all the necessary components from the battery cell to the finished battery system, for mobile and stationary applications as well as charging infrastructure and PV systems.
Why we do it
We work with conviction towards a renewable future.
With our solutions, we want to use batteries, fuel cells and photovoltaics, in as many applications as possible, with as many users as possible. In this way, we want to drive the turnaround to zero emissions.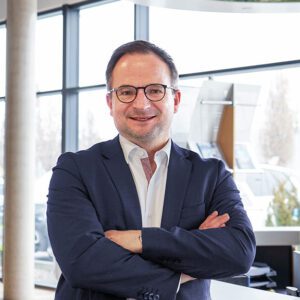 Holger Grass
Managing Director
With Holger Grass, Haller Technology has an experienced specialist as managing director who drives the business and visions of the technology company forward.

Do not hesitate to contact us.
Start here and now with us on a renewable future.
Our history
Haller Technology GmbH is part of the Haller Group, which has been in existence for 140 years. "Moving your business since 1882", that was and is the motto of the Haller Group. This is also true in Haller Technology, with all the new technologies of e-mobility, renewable energies and battery storage systems.
1882
Foundation of horse-drawn carriage business by Gottfried Haller in Augsburg
1954
Motorized cabs, agricultural machines and commercial vehicles
1962
Move from Augsburg to current location in Gersthofen
1997
Appointment as IVECO Premium Workshop
2001
Andreas Haller leads Haller Nutzfahrzeuge in 5th generation
2010
Further locations are added: Ulm, Dillingen, Munich
2011
Sale of Germany's first electrifiedbus to the Osnabrück public utility company
2016
Haller becomes Alltrucks Service Partner
2019
Foundation of Quantron AG & new construction of the headquarters in the freight traffic center Augsburg
2022
Foundation of Haller Technology GmbH